Dell Mobile Precision 7710 - Great Machine For Great Minds.
Powerful 17" mobile Workstation, featuring Intel® processors and a PremierColor 4K Ultra HD display.
*Attention
Dell Factory Outlet Refurbished
1st Year Warranty Direct From Dell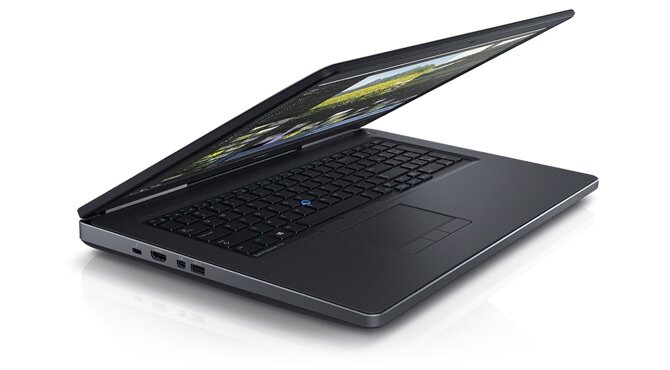 Looks As Good As It Performs.
Incredible design: A redesigned chassis with premium materials and a gorgeous 4K Ultra HD display with over 8 million pixels – 3 million more than a Retina display – allows you to view your work in stunning detail.
Extreme processors: No task is too big. The Precision 17 7000 Series delivers no-holds-barred processing capabilities with high-performance 6th Generation Intel® Core™ i5 and i7.
High-performance graphics: Responsive AMD FirePro™ graphic keep pace with demanding 3D rendering & other graphics-intensive tasks.
Ultimate reliability: Tested, optimized and certified with professional software applications as well as more support options with industry leading resolution time.
Superior Comfort, Speed & Storage
Keep Cool
A revolutionary thermal cooling system takes performance and comfort to never before seen levels in a laptop. Even your most graphic or processor-intense applications will benefit from never dropping out of turbo frequencies.
Big Storage For Big Jobs
Easily store, transfer and access complex 3D, multimedia and video project files with the speed and reliability of solid state PCIe NVMe storage.
Innovative, Durable Design
Strong materials: The redesigned chassis has been subjected to MIL-STD 810G testing, ensuring durability and reliability for wherever your job takes you.
Redesigned for mobility: Thinner and lighter than its predecessor, it's now even easier to store and transport your mobile Workstation when you're on the go.
Enhanced docking: Make using your peripherals and displays easy with the Dell E Dock, or use the Dell Thunderbolt™ Dock (available in 2016) for faster data transfers and support for up to four Full HD displays or 2 4K displays and five other peripheral devices.
Rigorously Tested For Optimal Performance
Independent Software Vendor (ISV) certification: Precision Workstations are tested to ensure the high-performance applications you rely on every day run smoothly. Dell ISV-certifications cover the most popular independent software applications.
Improve Productivity With Dell Precision Optimizer
Different applications have different system requirements. Let Dell Precision Optimizer take the guesswork out of customizing settings by automatically adjusting system settings.
Free with your Precision workstation, the Dell Precision Optimizer, with SCCM centralized management, automatically tunes your Workstation to run some of the most popular Independent Software Vendor (ISV) applications at the fastest speeds possible, enhancing productivity.
The Dell Precision Optimizer generates real-time performance reports for processor, storage, memory and graphics utilization, as well as send a system report to IT for analysis.

Ports & Slots
1. Memory card reader 2. Headphone jack 3. USB 3.0 4. Security lock 5. RJ45 port 6. Power adapter port 7. USB-C port (optional) 8. HDMI 9. Mini display port connector 10. USB 3.0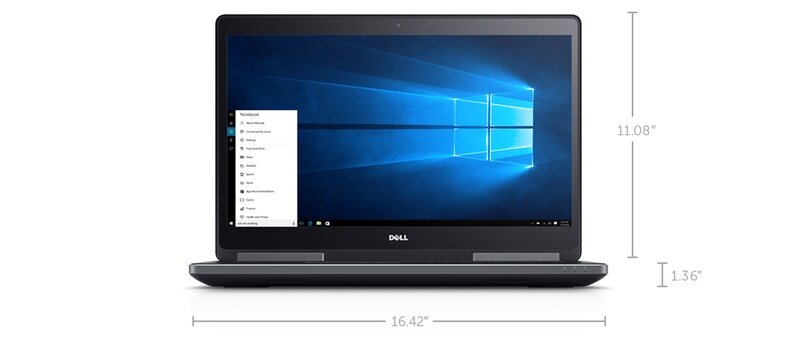 Dimensions & Weight (Non-Touch)
Height: (front) 1.12" (28.5mm) Height: (rear) 1.36" (34.49mm) Width: 16.42" (417.04mm) Depth: 11.08" (281.44mm) Weight: (starts at) 7.55lbs (3.42kg)
Why Dell Factory Outlet ?
Great value! Dell Factory Outlet offers great prices on some of the latest Dell products.
PCs are laptops and desktops that have been returned to Dell, put through the production process, and then again retested to ensure they meet all original factory specifications. Certified Refurbished systems may have some observable cosmetic blemishes, but they will not affect performance.
Scratch and Dent products are systems with considerable cosmetic blemishes that do not affect performance. They are a great way to save money while still enjoying Dell Outlet's rigorous rebuilding and testing process. Scratch and Dent computers will not have scratches or pits on the screen, missing or illegible letters on the keyboard, or damage to the touchpad or palmrest.